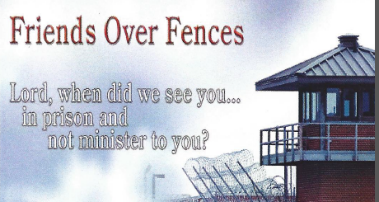 FRIENDS OVER FENCES — FAMILY CIRCLE MINISTRIES is a 501 (C) 3 NON-PROFIT that does business as FRIENDS OVER FENCES.
Friends Over Fences is located at
53 W. Main Street, Middletown, PA 17057
FRIENDS OVER FENCES HELPS INMATES AND EX-OFFENDERS TO BE SUCCESSFUL MEMBERS OF SOCIETY BY MENTORING, TRAINING, AND HELPING THEM FIND SUITABLE HOUSING, HOME FURNISHINGS, FOOD AND EMPLOYMENT.

Family Circle Ministries / Friends Over Fences Programs and Results:

Letter Writing – We believe letter writing serves multiple purposes. 1/ For a long term inmate, we could be the only connection to the outside world. One warden told us that inmates live their lives vicariously through letters and visits. 2/ Inmate looking to change their reentry world make a connection through letter writing that may help them with their after-prison life. We have almost 200 male and female letter writers past and present who continue to encourage inmates. We always have a backlog of inmates requesting someone to write to them. If you would like to write to an inmate, please contact penpal@friendsoverfences.org and we will find someone for you!

Housing – We work with returning citizens to find suitable housing close to their employment if possible. We have direct supervision of 29 units that we try to fill with ex-offenders. In addition we work with the 3 organizations in Harrisburg that facilitate the DOC housing assistance program to ex-offenders: Gaudenzia House, AMiracle4Sure and The Program. To date we have directly placed 50 ex-offenders into housing and referred dozens more

The Sharing Center – We maintain a 4,000 sq. ft warehouse where we accept donated / used furniture, appliances, beds/frames, bedding, plates, flatware, kitchen utensils and small appliances that we give to our clients at no cost. We have helped over 200 individuals and given away $75,000 (used value) worth of goods.

We also maintain a large room with assorted clothing for men, women and children as well as food, some household goods, toiletries and hygiene products that we give to our clients at no cost. We have helped 750 individuals making up families that are striving for a fresh start. This also included serving our homeless friends living on the streets of Harrisburg and Dauphin, York, Perry and Lancaster Counties. We helped multiple families that lost everything in house fires and several women leaving abusive relationships and seeking shelter and safety for their children. We have been donated 60 prom dresses and 75 men's suits, shirts etc which we will offer to local high schools for teens who need outfits.

Donate clothing, toiletries and baby stuff to the closet. Lisa is always looking for volunteers to help sort and arrange these items.

Transportation – Using church vans or personal vehicles our volunteers transport men and women to work, appointments, church and volunteer requirements. We pick up men and women from a local halfway house, friends who have been released as well as homeless individuals. They are taken to our church, Grantham Brethren in Christ Church, for the service and we supply lunch before we take them home. We are always looking for volunteers to help.

Mentoring – Our members mentor inmates and ex-offenders on a regular basis but when intense mentoring is needed we recommend those individuals to Sound Community Solutions that has developed a Mentoring Program that is being facilitated in SCI's, CCC's and Groups within the Community, per the DOC Directives. We have directly worked with over 100 individuals.

Please contact us so we can direct your needs to the best option.

Another Chance Housing – Our mission is to provide and develop quality affordable housing opportunities for individuals and families while promoting self-sufficiency and neighborhood revitalization. The need is greater than the available units.

We currently have been donated 2 houses (Lykens and Williamstown) which needed different levels of renovation. A donor has also given $20,000 toward renovation. Local churches have asked about volunteering to help as well as local contractors who wish to donate their services. We recently were funded to buy a 4 unit buildiing in MIddletown and give money to fix it up

We accept homes and buildings that can be renovated to house ex-offenders and/or their families. Building materials and financial support always welcomed.

Our passion is to help inmates and returning citizens with the above services. When you see where you can fit into our passion please contact us. We can't do it alone.